Celebrating Our 2020 Graduating Matches
While 2020 has been a year of monumental changes, we don't want to let it pass without celebrating the Bigs and Littles graduating from our Big Brothers Big Sisters program and moving on to the next step. Year after year, we gathered by the hundreds to honor and congratulate our graduating matches. Unfortunately, this year is different. In light of the cancellation of many graduation ceremonies and parties, the class of 2020 showed an enormous amount of composure, maturity, and grace as they celebrated one of life's great milestones in an unexpected way – virtually. And for that reason, our program coordinators and match support specialists have been communicating with, interviewing, and celebrating our graduates virtually for the past few months. While we can't highlight each of the 112 graduating matches here, we did want to share a few who exemplify everything it means to be a part of BBBS. Thank you to all of our graduating matches and families for trusting us with your time, humanity, dedication, and commitment all of these years. Congratulations!
"I've never met such a confident, selfless and energetic woman before. Through being her Little, I've found much more confidence in myself. My Big Sister has helped me see that I'm capable of anything - that I have the potential and mindset to just go for it. And that I deserved it." - Evelyn
Looking back on over four years together, Evelyn says she wouldn't be where she is today if it weren't for her Big Sister. "Anna may not think so and say it was all me, but in reality, she has played such a big part in my growth, in believing in myself and seeing my worth."
As a first-generation high school student and daughter of immigrants, Evelyn has looked to her Big Sister Anna for guidance on navigating her education and dealing with school stressors. She's watched her Big interact in group settings, and takes note of her incredible ability to engage everyone involved, ask questions and listen intently. Observing and learning these soft skills has been invaluable in her own journey to open up, speak out, and get out of her comfort zone. It's given Evelyn the courage to take on a school musical, interview for college and scholarship opportunities, and speak in front of hundreds of people in a Youth of the Year competition.
With all the guidance she was given and the relationship skills she has built, Evelyn plans to work towards becoming a high school guidance counselor as she majors in Sociology at DePaul University.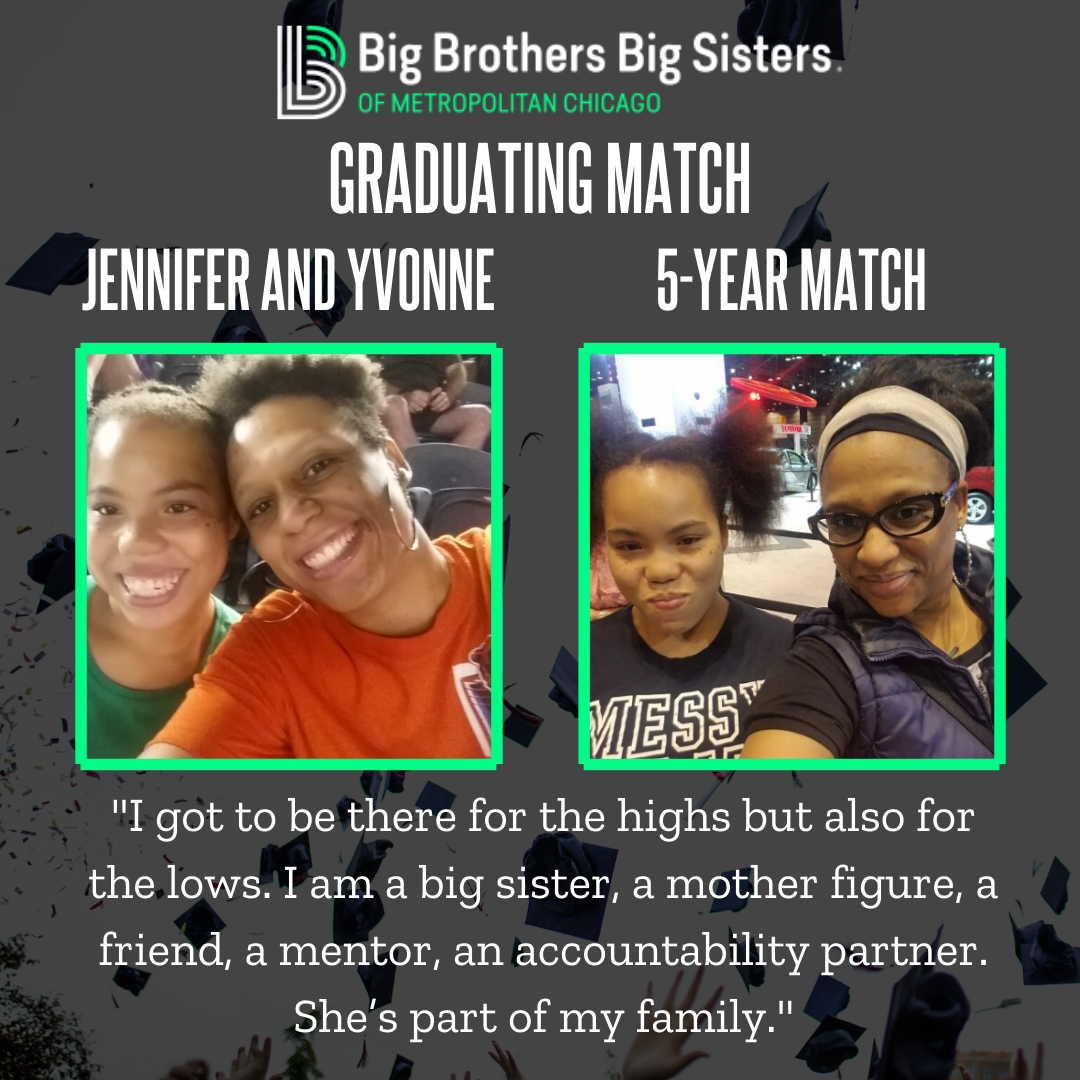 "I got to see Yvonne go through major developmental changes – from being in eighth grade all the way up to being eighteen and going off to college." Big Sister Jennifer thinks back to the start of her relationship with Yvonne five years ago. She reminisces about a little girl who liked playing video games.
Today, Yvonne is following in the footsteps of her Big Sister Jennifer as she has chosen to pursue a secondary education and career in mental health therapy and psychology. She is particularly interested in the benefits of dance for individuals with mental health disabilities. Jennifer is a mental health therapist who works with youth and families and was excited to share her insights with Yvonne as she navigates the next chapter in her life in their now shared field.
Jennifer has enjoyed being able to "be a big sister, a mother figure, a friend, a mentor, an accountability partner. I want to be there for the highs like Yvonne's sweet sixteen, but also for the lows – it is so rewarding. It feels like she's part of my family. I've told her – you can always call me."
When asked about her favorite memories together, Jennifer thinks back to that one unforgettable outing when they went to a Bears game together. "We got to be a part of the wave. It went around all of Soldier Field and when it got to us, we got so excited. It was a first for us both. We loved seeing everyone doing it. We like to watch scary movies together and she thinks that I'll get scared, but I prepare myself for it in advance. She also still kicks my butt in video games."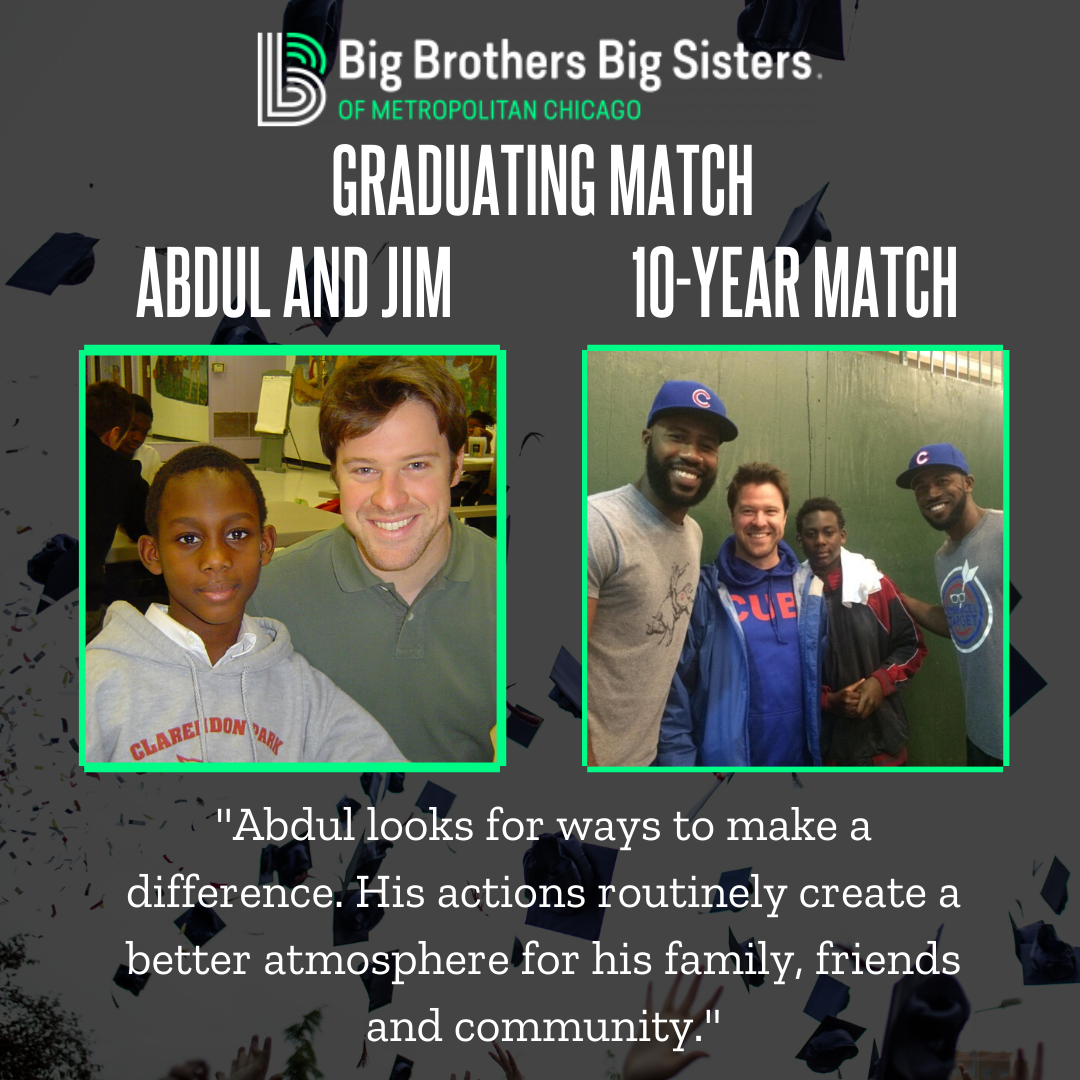 Ten years seems like an eternity, especially when you are in 2nd grade. And when Little Brother Abdul and Big Brother Jim were matched in the fall of 2009, it would have been unbelievable to imagine that they would still be together through Abdul's high school graduation in 2020. But when Abdul walked the "virtual" stage at Mather High School this spring, Jim and his family were there to cheer him on.

Since the two were paired together ten years ago, they have experienced what seems like a lifetime as Big and Little Brother. Throughout their match, Jim watched Abdul grow up from a highly energized boy to an ambitious and courageous young man – and Jim did some growing up as well! With their like minds and kindred spirits, their similar interests range from sports to family, and to knowing when to work hard and when to play hard. They are both bold individuals who can easily grab the attention of the room, to which any of their Program Coordinators will testify (for better or for worse!). They have formed a true bond and a friendship that they will uphold for many years to come.
Although their match has officially come to an end, Jim and Abdul know it is just the start of a new chapter. Abdul will attend Northern Illinois University this fall and will work towards becoming a physical therapist, continuing his passion for school and sports alike. And when campus opens up, Jim will visit his Little Brother as a freshman in college; quite the difference from the 2nd grade.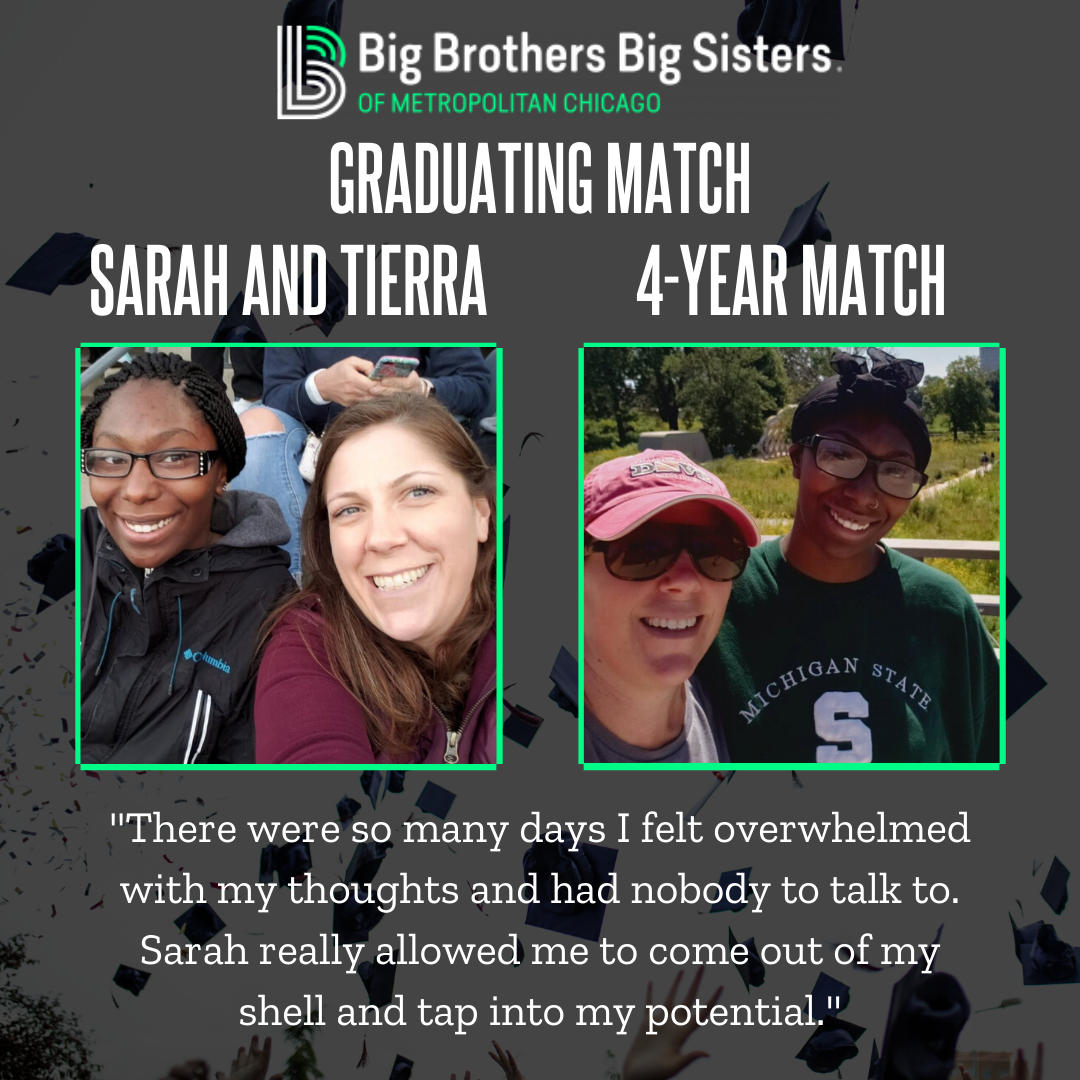 "Sarah has helped me in so many ways. I was a very standoffish, shy girl. I never was the outspoken kind. Having a bond with Sarah allowed me to be able to talk and communicate with people that I don't know. Sarah really allowed me to come out of my shell and tap into my potential."
Little Sister Tierra thanked her Big Sister Sarah for her support over the years and said she "couldn't have graduated without her help." Sarah's response was "of course she could have done it without me… but I am glad to have helped her even a little bit."
Sarah recounts all the experiences they have had together in the five years they have been matched. "We tried roller skating once - that was a bust, neither of us could skate away from the wall!  We have had countless lunches, ice cream dates and dinners.  Tierra tried sushi for the first time and was excited to try it again.  We have gone to the zoo, done a cooking class, and made cookies.  We even went to see Taylor Swift - Tierra's first concert."
Tierra credits her time matched with Sarah for giving her a proper outlet. "There were so many days I felt overwhelmed with my thoughts and had nobody to talk to. This experience with Sarah and BBBS allowed me to have a safe secondary diary counselor."
Come fall, Tierra will be getting a degree from the University of Illinois at Chicago to become a neonatal nurse working in a hospital. She and Sarah plan to stay in touch and are excited to continue to be close to one another as they start their next step.

Big Sister Greta introduced Little Sister Joy to the world of theater and since then "watched her become a little theater critic." They have formed a special bond over their shared experiences going to plays, getting their nails done and becoming 'foodies' by going to new restaurants. 
"We have both grown incredibly - I was a recently married 20-something and now I'm a 30-something with kids. We've lived a lot of life together. Joy is, at her core, the same person that I met seven years ago. She has remained such a sweet and caring girl, smart and sure of herself and not easily impressionable."
Thinking back to the girl she was matched with seven years ago, Greta remembers a quiet, incisive, funny and observant Joy. "I've kind of watched her grow into herself and become more confident and try new things and take risks and just become a more mature person. I feel like in some ways I've watched her change so much, but really I've just watched a human being that's so amazing settle into herself. It's such a gift to watch a young person do that outside of your own family."
 "I'm a big believer in exercising your empathy muscles and I can't overstate the importance of getting a peek into the ways that other people live their lives. It just makes you a better person."
Joy looks forward to staying in touch with Greta and continuing her education at Northern Illinois University, studying education. "I'm excited to create new memories with my Big and her family."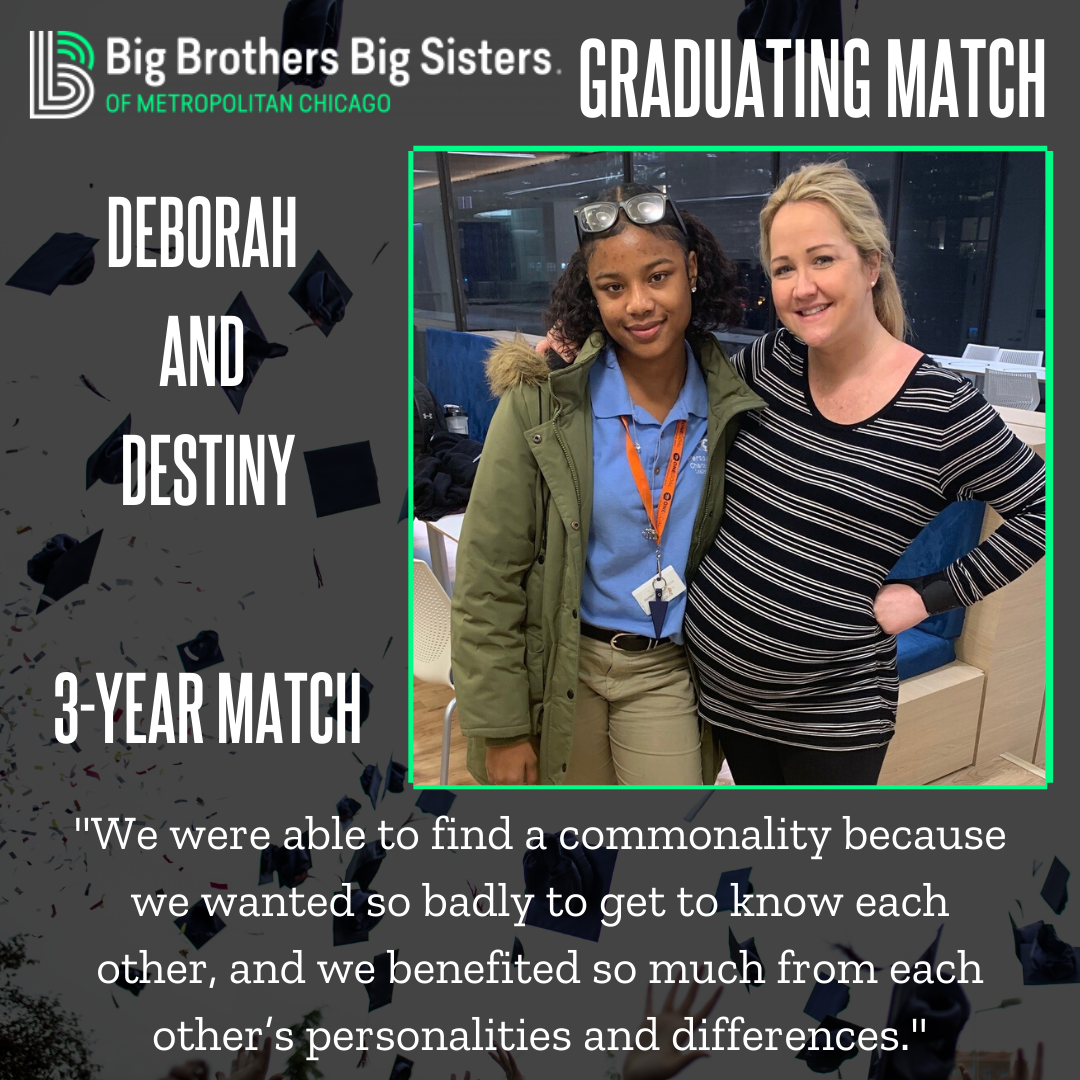 Big Sister Deborah and Little Sister Destiny were matched three years ago. Destiny remembers it clearly. "When I first started in the program and the PC asked me what kind of Big I wanted, I told her that I wanted a quiet, introverted Big. She gave me quite the opposite, but I don't regret that for a minute. I think I needed to have someone that wanted to talk because it made me want to talk."
Deborah also recalls Destiny's quieter days, saying that "as they got to know one another better, she just blossomed." For this match, it was their differences that brought them closer together. "We are so different, but we were able to find a commonality – we wanted so badly to get to know each other. We benefited so much from each other's personalities."
"Destiny opened my eyes to so much. It was eye-opening to see what brilliance can lie under the surface for someone who isn't really saying a lot and who's had it tougher than most."
Big Sister Deborah has shared advice with Little Sister Destiny at times when she needed it. Destiny often turns to her Big for personal, academic, and professional guidance – especially now, as she prepares to attend Chicago State University to pursue a program called RISE Academy focusing on intensive study skills.
Deborah says that she has also benefited tremendously from her relationship with Destiny, saying that "the personalization of having someone different from me as a key part of my life has been so special and so rewarding."
Interested in getting involved and starting your own match story? Sign up to volunteer or enroll your child today.