Giving Thanks - A Thanksgiving Holiday Recipe From Our Family to Yours
For so many of our matches, cooking or baking is what first brought them together. It's a part of shared milestones, conversations, and traditions. For Little Sister Damaris and her Big Sister Suzanne, baking means a chance for quality time spent together talking and connecting.
Suzanne and Damaris were first matched more than three and a half years ago during the pandemic. Though they couldn't spend a ton of time together inside, early on in their match the two made a long list on three big pieces of paper of all the things they wanted to try together. And ever since, they've been crossing new things off that list every few weeks. They've had a picnic and fed ducks in Humboldt Park, spent time at the zoo finding their favorite animals, virtually taken some classes together, and most importantly they've spent quality time with each other.
Damaris was only nine years when they were first matched, but Suzanne remembers she was already very polite and outspoken. On one of their early outings Suzanne remembers she was having an off day and when she went to pick up her Little Damaris greeted her by saying "Hi, how are you? How was your day at work today?" and that genuine curiosity and sweetness pulled her completely out of her funk and into being present with her Little, helping her make the most of the time they were about to spend together. Suzanne has always taken it as a lesson to be in the moment and that the little things can end up being the most important.
Over their more than three years together, Damaris and Suzanne have loved to get creative. From jewelry making to painting to root beer brewing to crafting, the two have tried it all. But the thing that they love more than anything is baking. This year, the two tried chocolate covered pretzels and loved experimenting with different toppings and textures. They tempered the chocolate at different temperatures to try and get a shine and loved an "animal style" topping where they just added everything they could find onto a single pretzel to see how much they could fit. The pretzels were a big success, but nothing tops a perfect chocolate chip cookie.
Suzanne is known for her famous chocolate chip cookies. She makes them every year for the holidays and brings hundreds into work, to her family gathering, and for her friends. These cookies are famous for their secret ingredient (more on that later), and Damaris was eager to bake them with Suzanne this year. The two made a whole outing out of it, writing out the recipe and the ingredients they would need, going to the grocery store together and letting Damaris lead the way looking through the shelves for what she would need. It presented learning opportunities like making a budget, googling what the difference is between dark and light brown sugar, asking an employee where to find a certain section, and checking expiration dates.
When they were finally back in Suzanne's apartment they got to work. Preheating the oven and mixing the dry and wet ingredients. Suzanne let Damaris take the lead on everything and mostly just supervised or gently stepped in if anything needed tweaking. She let Damaris know to add a couple extra chocolate chips to the top of the rolled-up balls of cookie dough, since everyone always loves when their cookie has visible chocolate on top. And she always rolls her dough into extra small balls to end up with smaller than normal cookies – and then you can justify eating more than one!
While the cookies baked, Damaris hung out with Suzanne's cats Marka and Khufu, and they talked about their upcoming trip to the Bengtson's pumpkin patch. It would be their fourth time going together and has become a real tradition for the two of them. They love the petting zoo, pony rides, apple cider donuts, and mining for gemstones. But Suzanne said what she loves most about the trip isn't the patch itself, it's the hour drive there and back she gets to spend in the car with her Little. The car ride means quality time listening to music, talking about their days and their dreams, and most importantly a chance to connect and chat with one of their favorite people in the whole world.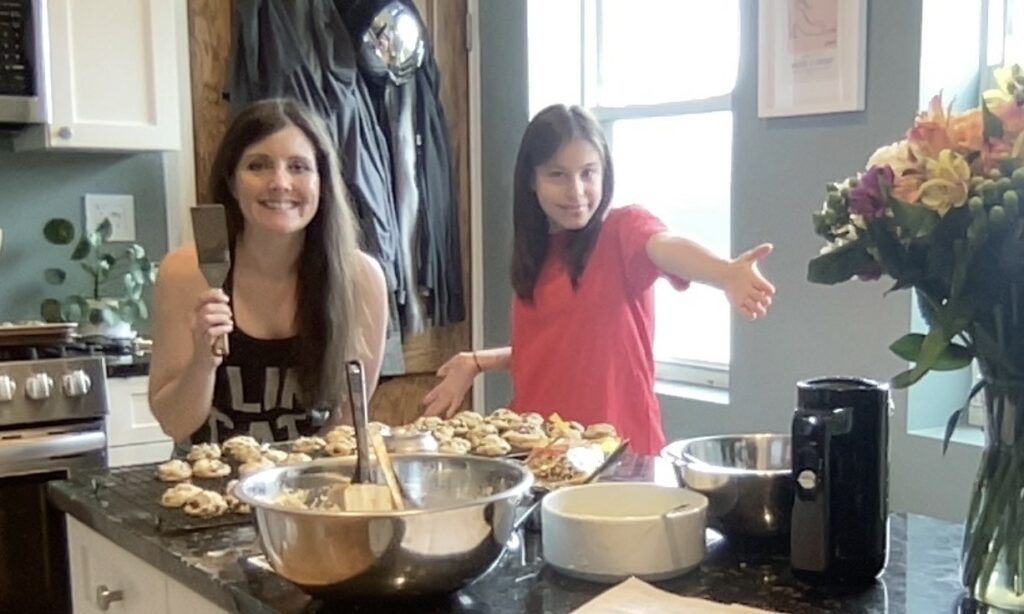 We hope this holiday season brings you a chance to connect and spend quality time with the people you love. Suzanne has shared her cookie recipe below, secret ingredient included, so let us know how they turned out if you and your mentee end up baking them together. Just don't forget to add extra chocolate chips on top!
From all of us at Big Brothers Big Sisters, thank you for being a part of our family and thank you for helping bring Bigs and Littles like Suzanne and Damaris together - this season and for years to come.