Chicago Union Coach Dave Woods Is the Ultimate Big Brother
By: Matthew Calvert
Around three years ago, Dave was looking for a way to give back. The pandemic and the George Floyd protests were causing him to look at things differently, and he thought to himself "this seems like the time that I need to do something. I want to make a difference somehow."
Dave signed up to volunteer on the Big Brothers Big Sisters of Metro Chicago (BBBSChi) website and went through the process to learn about his interests and what he wanted in a Little Brother. Once BBBS found a match, he drove to his Little's house, and sitting across from him was a tiny kid named Caleb who couldn't sit still.
Caleb's mom Priscilla got her son involved in sports to help channel his energy, and he's quite the soccer standout. But he loves going to the park with Dave and doing things besides soccer such as playing catch, throwing a frisbee around, and working on math games. They also love to experience Chicago sports together like Bears and Cubs games thanks to tickets from BBBSChi's generous ticket donors. Though it was tough to connect at first, Dave tells us that his time with Caleb has been really rewarding. "With kids that age, attention is what they value most. It didn't really matter what we were doing, it's that we were regularly meeting up and doing it together."
Though the two are fast friends now, an early scare for Dave was when he first took Caleb bowling. Caleb is "competitive to the max" while Dave describes himself as more of a team-first guy. When they got to the alley, Caleb was talking a big game, and maybe didn't put together that Dave knew what he was doing even though Dave brought his own ball and shoes. It was getting into the late frames and Dave was winning when Caleb lost it. "He had a meltdown right in the middle of the bowling alley." It was still early on and Dave was thinking to himself "Oh no I just ruined this match. He is going to tell his mom that he had the worst time and it's going to be over." But after some tears and a few arcade games where they teamed up, Caleb was all smiles again. On the walk back to the car Caleb said "That was fun! We should do this again." And Dave breathed a huge sigh of relief.
Nowadays Dave takes that outing as a learning experience. The two try and team up as much as possible instead of playing 1 v 1. Caleb loves math, so on their most recent outing and return trip to a bowling alley Dave and Caleb played some math games, keeping track of their scores and trying to combine frames for the highest number as well as working to beat their past selves. This way they can still channel Caleb's competitive fire, but do so on a team together.
Dave moved to Chicago a few years before joining BBBS, and he tells us that one of the benefits of the program is it has allowed him to explore his new city and do things he never would have done without Caleb by his side. From actively seeking out things to do in the city like trying new food and visiting new parks to the freebies and BOGO deals that BBBS Bigs have access to like rock climbing at Brooklyn Boulders, Dave has gotten to experience a lot of Chicago for the first time himself and through the eyes of a child.
One thing Dave loves about the BBBS program is the goal setting. At the start of every match and then every year thereafter, Bigs and Littles set goals for their year together with an assist from the Little's parent or guardian. Working in sports, Dave is naturally goals-oriented, and it helps him focus on the important things besides just having fun together. The two have set out to keep trying new things, to never do the same outing two times in a row, and to create their own secret handshake.
On the Ultimate front, Dave is also setting big goals for himself this year. He's the head coach of the Chicago Union, a professional team that competes in the American Ultimate Disc League (AUDL). Dave first joined the union as a player, then transitioned to player-coach before taking the helm full time in 2019. In the last two seasons the team has made it to championship weekend getting knocked out in the semifinal game in 2021 and in the championship game against the New York Empire in 2022. So the goal for this year is to improve again and take home some hardware, even though that won't be easy in a league that keeps improving every year.
A tenet that Dave has brought to the team is the three Cs: Communication, Competition, and Community. So far this season, the team is 5 and 3 with a tough match coming up this weekend July 8 against the Pittsburgh Thunderbirds. As a team the Union have been crushing it so far at the competition and communication aspects, but their focus right now is on being ambassadors to the city of Chicago and really nailing the community aspect. This year, every player on the team is required to make a commitment to a certain number of hours volunteering with a local organization.
To that end, this Saturday, July 8th, the Union will be teaming up with BBBSChi for a field day ahead of their game against Pittsburgh. BBBS matches will get to learn from the pros about the ins and outs of Ultimate before heading over to De La Salle Institute and cheering on Chicago as they take on the Thunderbirds.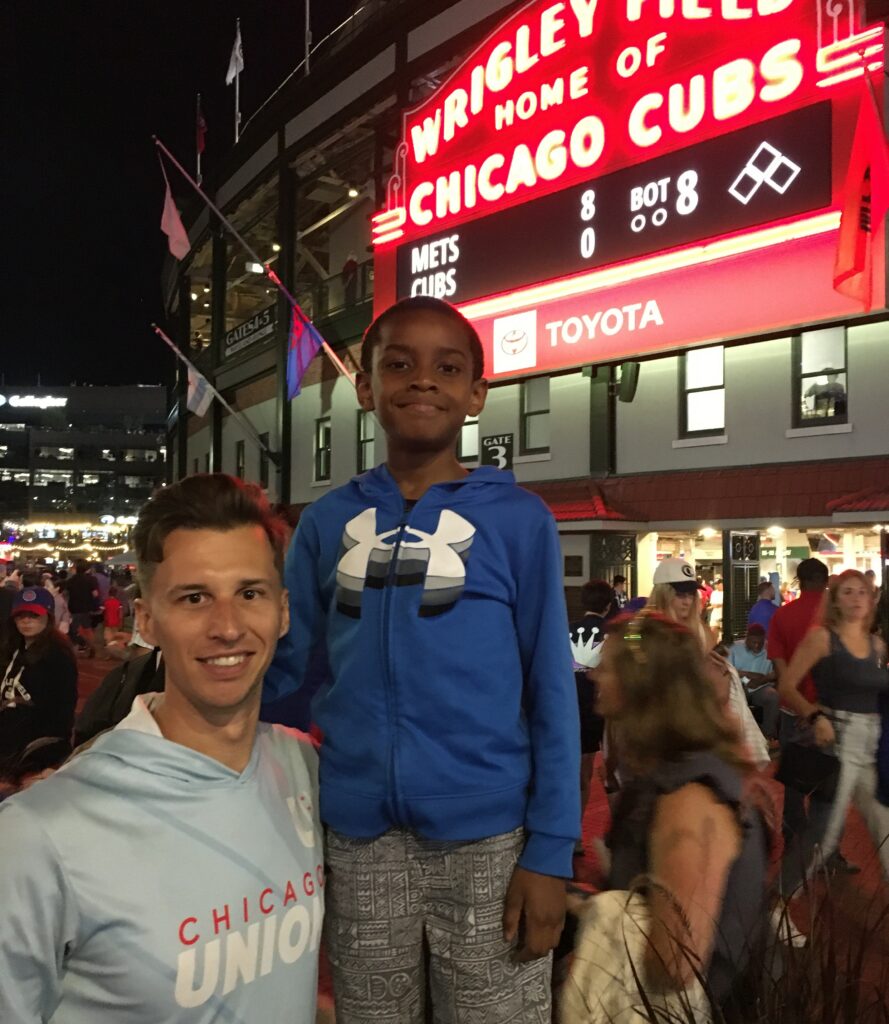 We're excited for this field day and game because mentorship and Ultimate actually have a lot in common. Dave told us that Ultimate Frisbee is known as "Ultimate" because when they created it they wanted to create the ultimate team sport. It's one of the only sports in the world where you need two people to score a point. And just like mentorship, the longer those two people can work together and learn from each other, the better the outcome will be.
Sports and mentorship go hand in hand, but it's when people decide to put in the extra effort that greatness is achieved. Whether that be an extra pass opening up a hole in the defense or the extra arcade game working as a team after a day of competition. Every Little thing can make a Big impact.
You can learn more about becoming a Big with BBBSChi at bbbschgo.org, and you can get your tickets to upcoming Union home games at theaudl.com/union.