The Alvin H. Baum Family Fund: Defenders of Potential
Big Brothers Big Sisters of Metro Chicago (BBBSChi) is excited to launch our Defenders of Potential Highlight Series by spotlighting our long-time dedicated partner: Alvin H. Baum Family Fund.
The Alvin H. Baum Family Fund (Baum Fund) has for years sought to better the lives of those who live and work across Chicagoland through grants and collaborations to ensure healthier, more equitable communities. The Baum Fund honors the legacy of Alvin H. Baum and his wife Ann Baum, who were longtime philanthropists and compassionate individuals who supported a broad array of charities. People mattered to Alvin and Ann Baum, and their personal connections and relationships led to a variety of philanthropic interests. Today, the Baum Fund celebrates their legacy through a willingness to take risks and seize opportunities, making authentic connections, and responding to urgent community needs.
BBBSChi and the Baum Fund first partnered in 2008, but it was several years later, in 2012, when Joel M. Friedman, President of the Baum Fund, toured BBBSChi's downtown office and learned about how to have an even greater impact on the mission in addition to funding our programs.
The Big Brothers Big Sisters program works with children until they graduate from high school, but we know that the years after high school, whether they be in college, career training, the military or elsewhere can be the most important in setting up young people for a successful life. That is why we worked with the Baum Fund to create our Alvin H. Baum BRIGHTER FUTURES Scholarships, and Graduation Awards. These two post-secondary support opportunities provide graduating BBBSChi seniors with scholarships that can be applied to their tuition, fees, books, and computer equipment to take some of the financial stress out of succeeding in college.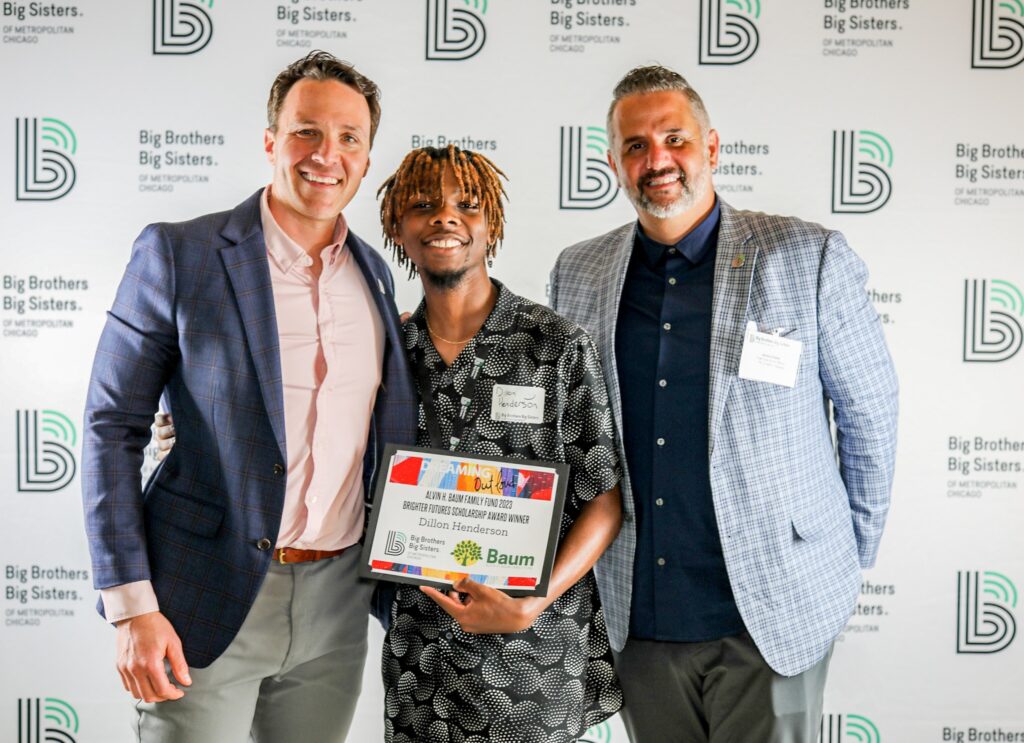 Data continues to show that many children who have been accepted into college from low-income families or who are the first in their family to go to college either don't go or don't stay because the financial burden is too heavy. "It was easy to conclude that providing a financial boost for these kids would be an incredible return on our investment," said Friedman. Since setting up the awards, there have been 57 Brighter Futures Scholarship recipients who have received investments ranging from $500 to $5,000 each, to be put towards their college needs. The Baum Fund has also seeded $500 Graduation Awards for BBBSChi graduates which helped hundreds of young people start their secondary education on the right foot. And this is just the beginning of how the Baum Fund has supported BBBSChi families and mentors.
Another way that the Baum Fund has supported BBBSChi is through their support of the Match Enrichment Fund (MEF). The MEF helps matches by covering the costs of outcome-based enrichment opportunities that cater to every match's individual interests and needs. The MEF augments existing BBBSChi mentoring relationships with access to experiences outside of the realm of typical match outings including arts and culture, educational achievement, health and nutrition, college and career preparation, and aptitude enhancement. Since its creation over a decade ago, the MEF has been used hundreds of times by BBBSChi matches. The Baum Fund has not only made these pivotal opportunities possible, they've also inspired other agency partners and donors to give. And the Baum Fund's support of the MEF ensures that matches not only get a chance to have new and powerful experiences together, but they stay together longer. In addition to these wonderful opportunities for matches, the Baum Fund also provided direct assistance to BBBSChi families during the COVID-19 pandemic through gifts to the agency's temporary Family Response Fund, which helped cover the costs of necessities during a time when they were most needed. From the beginning of the pandemic through today, our BBBSChi staff never stopped supporting the families in our programs.
In addition to monetary support, the Baum Fund has hosted an annual UIC Baum Fund Day where they invite their agency partners to join them for a free day on the college campus including lunch, attending a basketball game together and participatory experiences with college athletes and mascots. Everyone that attended this year had a great time, and we are excited to see what next year's UIC Baum Fund Day event has in store!
"It's important to see how the work at BBBSChi is completely full circle – to recognize the support from staff and efforts of all parties, and to see the mentors and parents as excited and fulfilled as the Littles," said Friedman. "This work really impacts everyone in the community. Something that we really love about BBBS is the relationships between Littles and Bigs are long-lasting, sometimes continuing for several years. We believe in addressing issues via long-term solutions rather than a quick fix or 'one and done' approach. Real change happens most frequently across time."
Across their years of support, the Alvin H. Baum Family Fund has impacted thousands of families across Chicagoland. Big Brothers Big Sisters of Metro Chicago continues to work every day to help children across Chicagoland achieve their full potential, and we are so grateful to amazing partners like the Baum Fund for their unwavering support in defending that potential.
You can learn more about the Alvin H. Baum Family Fund at baumfund.org.
To read our memorial honoring former Executive Director, Erika Cornelison, click here.