2022 Match of the Year: Little Sister Chayse and Big Sister Molly
2022 was a year of reconnecting for many of our matches with countless meetings, outings and milestones. We wanted to acknowledge everything that goes into making these big and little moments by announcing our first-ever Match of the Year: Little Sister Chayse & Big Sister Molly.
Self-proclaimed introverts, Chayse and Molly are always finding ways to get out of their comfort zone, build genuine connections and support each other's interests through new and noteworthy experiences. Their recent outings have covered everything from visiting a goat farm and frequenting their favorite Japanese grocery store to learning to skateboard and dining at the famed Walnut Room for a Beyoncé brunch.
Particularly noteworthy for a match that started their relationship online via Zoom, Molly wanted to use her time to forge a genuine connection: "The world wasn't in the best place," said Molly, "and I wanted to find my own way of positively contributing. I know I could've benefitted from having a Big Sister – someone checking in on me and helping with mental health."
Fifteen-year-old Chayse has grown so much since she was matched in BBBS, telling us, "If I didn't have Molly, I wouldn't have the creative outlet she provided. Before BBBS, I was closed off and unwilling to go out of my bubble. Molly has completely eradicated that! She understands when I'm struggling and comes up with different ways to be more outgoing. There aren't words that can truly express the gratitude I feel towards Molly."
Molly has been instrumental in Chayse's transition to high school, building her confidence and encouraging her to try out for the school volleyball team. Outside of school, Molly has always been intentional and thoughtful about meetings and opportunities: a visit to a store together also supports a POC-owned business or an outing at a farm that supports residents with developmental disabilities. And something extra sweet – Molly has leaned on her employer, a candy company, to support a community ice cream picnic event and their last outing: a trunk or treat.
"Being a Big impacts my day-to-day decisions," said Molly. "I always have Chayse in the back of my mind. And being a mentor in general makes me want to be a better person."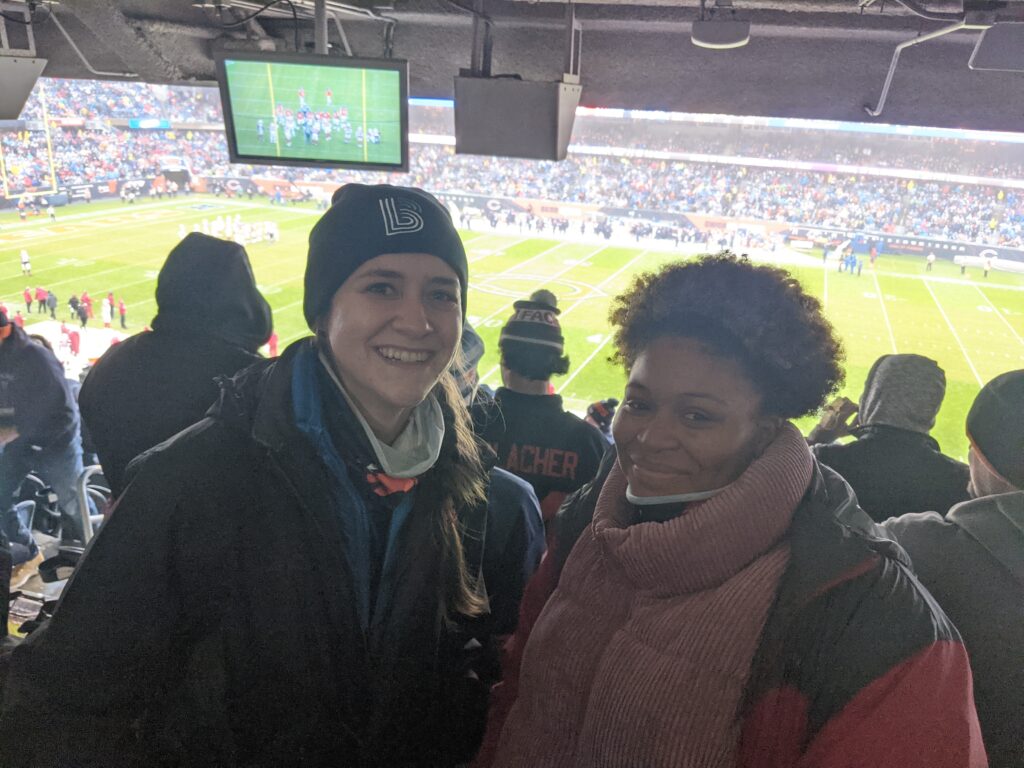 We're so excited to celebrate Molly and Chayse as our 2022 Match of the Year! Every match is unique, but we love that Molly and Chayse meet each other where they are and bond over how to get outside of their comfort zone and experience all that Chicago has to offer.
Are you inspired to get involved and be a mentor for a child waiting to meet you? Sign up to volunteer today and take the first step towards inspiring potential.