10 Chicago Summer Mentorship Activities Accessible via Public Transportation
Have a Little fun on the train this summer!

By Hannah Gage
Chicago is the best Midwest city to enjoy the summer weather in, and there's no one better to experience summer fun with than your mentee (we call them "Littles" at BBBSChi). Here is a list of 10 Chicago Summer Mentorship Activities Accessible via Public Transportation to get you started on some summer fun!
Summer has finally arrived in Chicago, and unfortunately so has the road construction. So now is the best time to explore everything Chicago has to offer with the help of local Metra and CTA routes! Our train and bus systems allow you to go virtually anywhere in the city, while also being extremely low-cost and time efficient when compared to other modes of transportation. Whatever summer adventure you may desire, there is a Metra or CTA route that can get you there, all while saving you a few dollars and your sanity. There is no better way to explore the city with your mentee than by train! Head to your local Metra or bus station to see everything Chicago's summer has to offer. Here's a starter guide to summer fun that you and your Little can access via public transportation . . .
1. Step Into Nature at the Chicago Botanic Garden
accessible via Union Pacific North Line, Braeside Station 
Enjoy some local flora and fauna! The Chicago Botanic Garden is on 385 sprawling acres that features a variety of native and international plants, a model train garden, tram tours, butterfly habitats, art exhibits, biking trails, dining, and even a garden shop! You truly will not be able to see everything the Botanical Gardens have to offer with simply one visit. Admission is typically $15 for adults, though on certain weekdays throughout the summer months there is free admission, check out their website for more information.
2. Explore History at the Field Museum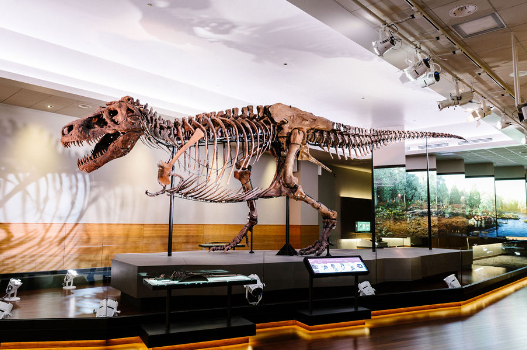 accessible via 'L' Red/Orange/Green Lines, Roosevelt Station
Inspire your inner scientists with a trip to Chicago's Field Museum! Throughout the summer there will be exhibitions, but of note is the reintroduction of the world-famous SUE the T-rex, who is 40 feet long and has 90% of her complete skeleton. Admission varies in price, with prices typically around $20 for Chicago adults. There are also free admission days at the museum for Illinois residents throughout the summer including on July 1st and 2nd. More info can be found on their website.
3. Check Out Plants from Around the World at the Garfield Park Conservatory
accessible via 'L' Green Line, Conservatory-Central Park Drive
Head over to the Garfield Park Conservatory to see plants from all over the world through their eight indoor display gardens. This attraction offers great spots for photos with friends or an Instagram refresh (don't forget to tag us @BBBSChi!) Spend an afternoon with your Little immersed in a new climate and beat the heat where there are tropical temperatures year-round, as well as a nature center for kids and plenty of lily ponds. Reservations are free and required to get into the Conservatory, though it is possible to make reservations upon arrival. Plan your trip today!
4. View the Masterworks at the Art Institute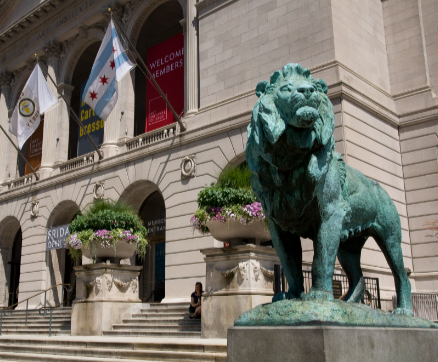 accessible via Metra @Van Buren, 'L' every line @Adams/Wabash or Monroe
Do you or your Little have a love for the arts? Located downtown next to Millenium Park and Lake Michigan is the world-renowned Art Institute of Chicago. They have many summer exhibitions coming up, with one of the most notable being the Van Gogh Avant-Garde exhibit, open through September. Admission is free for Chicago kids 18 and younger, $14 for Chicago adults, and free Thursday evenings from 5-8PM through August.
5. Fly the W at a Wrigley Field Cubs Game
accessible via Addison stop on the CTA Red Line
Wrigley Field is one of the oldest ballparks in the country, and a Cubs game is always an enjoyable time for all ages. Make a point to try one of the famous Chicago hot dogs sold throughout the stadium, and then fly the W and sing "Go Cubs Go" after a Chicago victory. BBBSChi matches also have access to free tickets so make sure to check availability for dates that work for you and your Little! And if you want to donate your unused tickets to our matches send them to us at tickets@bbbschgo.org.
6. Head to the Southside for a White Sox Game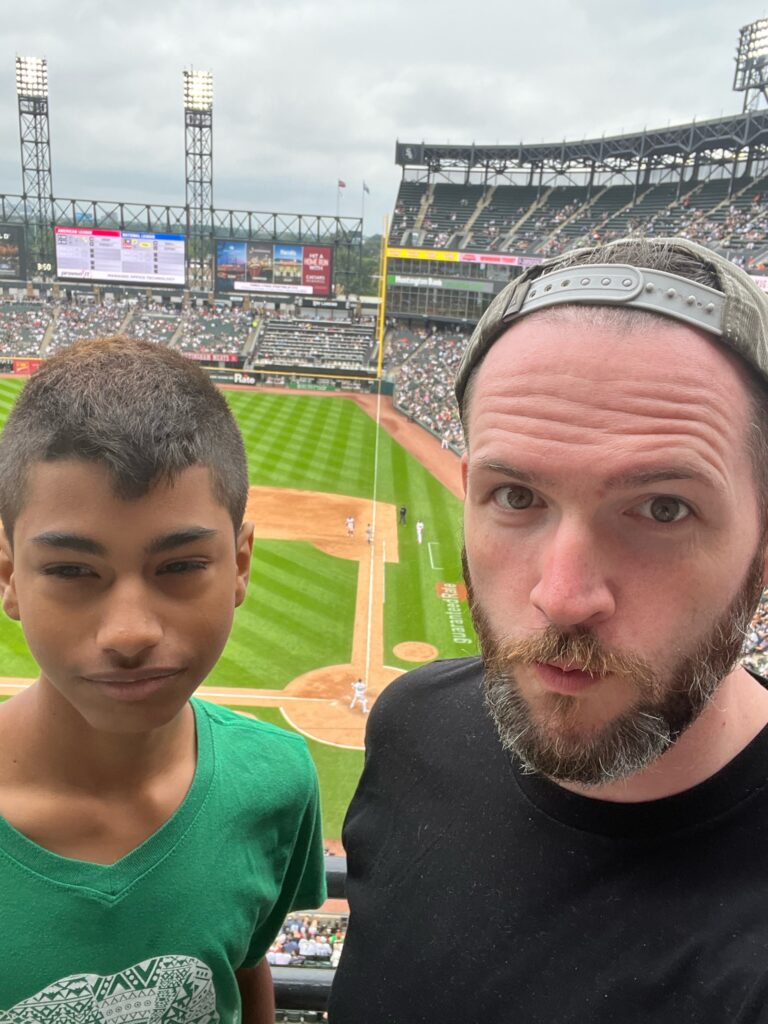 accessible via Metra @35th St. Station, 'L' Red/Green lines 35 St.
Don't forget about our Southside team! The White Sox play at Guaranteed Rate Field easily reachable on the Red Line and via many bus lines. BBBSChi matches also have access to free tickets so make sure to check availability for dates that work for you and your Little! And if you want to donate your unused tickets to our matches send them to us at tickets@bbbschgo.org.

7. Relax and Sunbathe at Montrose Beach
accessible via 'L' Red line at Lawrence or Wilson
Take advantage of SummertimeChi and head down to the lake front! Montrose Beach is the downtown park destination of your dreams! This lakefront park is over 1,000 acres (1.5 miles) and houses a variety of summer activities along Lake Michigan. You and your Little can spend an afternoon enjoying the docks, the beach, swimming, renting kayaks, eating tacos and ice cream and forgetting that winter even exists.
8. Go on a Safari at Lincoln Park Zoo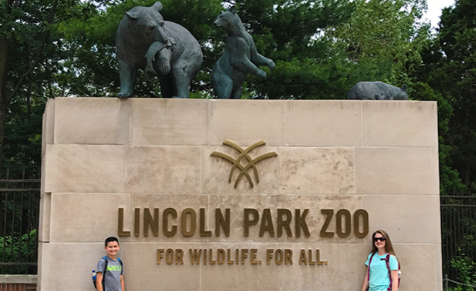 accessible via 'L' Brown/Purple at Armitage Station, Red line @Fullerton
Do you or your Little enjoy animals? If so, Lincoln Park Zoo is a wonderful place to visit during the summer months! The Lincoln Park Zoo is home to over 200 species of animals and has gardens filled with over 850 vibrant species of plants. And best of all, admission is always free! Check them out on the second Saturday of every month for a guided tour of the gardens on the grounds.
9. Taste the Best from Chicago City Farmer's Markets
check out the below link to find a farmer's market near you
Chicago is home to over 25 Farmer's markets, but my favorite is Lincoln Park's Green City Market which is open 7am - 1pm Wednesdays and Saturdays through November. This is a great outing for Littles to try new foods and check out the best produce from across the Midwest! Find the market nearest to you by checking out this link!
10. Enjoy the Music at Chicago Summer Street Festivals
check out the link below to find the festival for you!
Chicago is home to an incredible food and music scene, and there is no better way to experience the diversity of the city than through our many summer festivals. One to note is the Ravinia Festival in Highland Park, which has big names like Lauryn Hill, Santana, and Carrie Underwood playing this summer. Back in the city proper is the Wicker Park Fest, which will feature great food, shopping, and music July 28-30th. For our food festival lovers, check out the Chicago Food Truck Festival located in the south loop on July 29th and 30th. There are plenty more though, so check out all of Chicago's summer festivals here.
Did you get inspired to check out all that Chicagoland has to offer? There is no better way to see the city than through the eyes of your mentee. If you were inspired, we hope you'll tag us in photos on your outings @BBBSChi, and if you are looking to get your mentoring journey started, take the first step today!